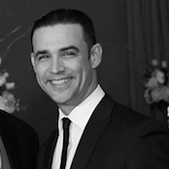 As an entertainer there are not many people that have the experience, persona, and persistence for excellence that Luis Rex has. As a young man he felt very comfortable talking, singing, DJing, and performing in front of any audience. For over twenty years this has molded Luis into one of Central Florida's finest entertainers. With a degree from Valencia Community College in Performance Arts, and many years as a DJ/MC/Singer/Musician Luis has been able to evolve and cross over to any style of music and events. Currently Luis is a partner for Dash of Class Platinum Wedding Entertainment, a division of Partner's in Sound Productions Orlando. Luis understands what it takes to get the wow factor and that extra "thing" people look for when planning their events. Whether singing, MCing, or live music entertainment, Luis will help and guide you in planning your event from start to finish.
Brianna Volz , married on 04/25/2020
⭐⭐⭐⭐⭐
They know how to put on an event!
Luis and his team in Orlando made our wedding day more fun than we could've imagined. He was the perfect emcee and really got the crowd engaged. Our guests LOVED the music choices by his DJ crew and the added saxophonist and drummer were the perfect live elements to pump up the party. Luis was also happy to assist with any additional entertainment wants/needs, as well as lighting other special effects, throughout the entire process and was an overall pleasure to work with. We would recommend Luis and his team to anyone and look forward to have him hosting events for our family in the future! He's a friend for life now.
Danyle , married on 03/07/2020
⭐⭐⭐⭐⭐
Couldn't have asked for anything better!
We used Dash of Class Orlando for our big day and let me tell you, it was the best decision we made. Our wedding was a PARTY!!! We are still having guests of all ages tell us what an amazing and incredible job they did. They provided our uplighting, a monogram on the dance floor, and the coolest photo booth. Everything was such a hit! They were so professional the entire planning process and on the big day! Luis was INCREDIBLE with the crowd! I loved having him as such a big part of our day! The rest of the team was great too. They provided our ceremony music as well and all the cues were perfect, quality of the sound was great. If you want your wedding to be a true PARTY – Use Dash of Class ORLANDO! Thanks Luis, Tara, and team!
Michelle , married on 02/08/2020
⭐⭐⭐⭐⭐
Amazing from start to finish!
We loved working with Luis and his team. Luis met with my mom and I quite a few times before my wedding at Hyatt Regency Orlando. He already felt like family by the time I got married. His high energy and dedication to my event was incredible. From start to finish I was confidant he would put his all into it. The music was great for all my guests and the lights made the ballroom look magical. We had the magic mirror photo booth which added such a fun experience for my guests. I was so impressed. Let's not forget to mention the incredible personalized monogram they made for my husband and I. I highly recommend Dash of Class For any event. Thank you for making my wedding the best night of my life.
Sharon , married on 12/08/2019
⭐⭐⭐⭐⭐
Luis and Carlos were amazing!!
From the first meeting to the last, Luis guided us, listen to what we wanted and suggested great ideas that made our wedding reception unforgettable. We did not have to worry abut anything during our reception. Together we came up with a schedule for the event so that everything ran smoothly and he coordinated with the other vendors to make it happen. I recommend them 100% for any event. Very professional and fun!
America , married on 09/14/2019
⭐⭐⭐⭐⭐
Excellent service
I love them! Dash of Class Platinum made my wedding awesome. Luis was very professional and knew exactly what to do he energized my guest and made my wedding unforgettable. DJ was on point with the music. The photo booth was also a great hit. I recomend you guys to everyone. Everyone had so much fun. Thank you so much for making my wedding a special magical day.
Jamie , married on 05/05/2019
⭐⭐⭐⭐⭐
Excellence
Luis and his team were amazing! From the moment we sat down with him we knew we would be in great hands. We told him what we expected and what would like and he delivered perfection plus more. The music was on point and my guest never left the dancefloor. My husband and i couldnt have been happier and still till this day our guest cant stop talking about them. They had a variety of music from all decades. They were very professional and keept our guest hyped throughout the event. We cant thank them enought for all the work they put in to make our wedding unforgettable.