Feb
16
Thu
Wedding Expo at Nicotra's Ballroom February 16th

@ Nicotra's Ballroom
Feb 16 @ 6:00 pm – 8:00 pm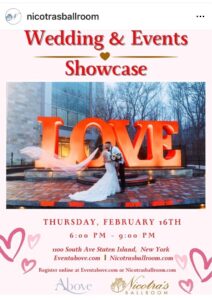 Wedding Expo at Nicotra's Ballroom on February 16th. When planning your event at Nicotra's Ballroom, your magical journey begins by meeting your personal event planner. Bringing your dreams to life, our team will help you every step of the way. Come plan with Staten Island's best event specialists as we help you create your Dream Wedding Day! Bring your family and friends as you will experience Dash Of Class | Platinum Entertainment LIVE! We will showcase our various options to make your wedding dreams come true! R.S.V.P. HERE
What to expect at our Wedding Expo?
Awesome entertainment options include DJ/MC combinations and a medley of various music styles. Lighting effects that will enhance your venue and atmosphere. Both Intelligent and LED Uplighting. We will describe and show the difference between the two and how it is used. Picture Montage ideas and concepts, along with digital snapshots. These will be displayed on HD Plasma screens and you will be able to see the way it will be presented at your event. Photo booth description of sizes, whats included and how to customize them. Live musician accompaniment like percussionists and saxophone players and how we will work them into your music program seamlessly.
Experiencing our entertainment company at the Wedding Expo at Nicotra's Ballroom will really give you the sense of how we would perform at your event.We have been complimented on our showcase performances because they are packed with information and interaction. This is crucial to help making your entertainment choice the right one. All of our partners not only take the stage but are available for one on one consultations to answer all of your questions. This is an open invitation to all that live in and around the Brooklyn, Queens, and Staten Island area. Please join us for great prizes, giveaways, fashion show and also be sure to "Spin The Wheel". Stop by our sales booth for more info, hope to see you there!