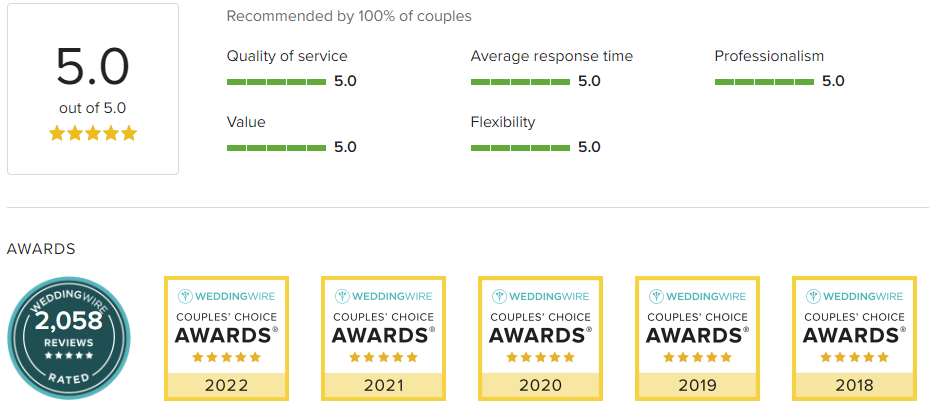 Ashley G.
Amazing amazing amazing!
The ENERGY that Mike and Sal brought to our wedding was UNMATCHED! They literally made the event what is was with their insane music mix, amazing MC skills, and overall professionalism.
Mike went above and beyond to make our event so special! I cannot have asked for anyone better!!
Lauren
My husband and i just had a wedding at liberty house. We hired platinum entertainment and they blew our minds away. Not only ours, but ALL of ours guests we're amazed and loved everything they did. My husband and I would recommend them to everyone. They are very professional , caring and made sure we had the time of our lives. We couldn't of asked for a better crew to be at our wedding. Emcee mike g and DJ Joey O made our night so special and entertaining that we will never forget. Everyone danced all night and didn't want to stop. Love you guys. Thank you for everything.
Amanda
We are so pleased that we chose Dash of Class Platinum as our DJ company for our wedding. DJ Justin Holland and MC Mike Gee were such a pleasure to work with! They made sure everything was planned accordingly and were in tune with our likes and dislikes! They made it such a smooth easy experience and delivered such an amazing night for our family!! Everyone loved the music and the presentation they provided us with! There's no other DJ to recommend they are the best of the best!!
Angela
Dj Mike G and Joe Rocco were the best they kept the party going everything was a blast I could have asked for anything better truly an experience I will never forget the best day of my life me and Vinny truly appreciate everything you have done everyone needs to use these guys love them thank you my wedding was the best because of you guys thank you for everything thanks Vincent and Angela
Elizabeth
Our wedding on was beyond perfect thanks to MC Mike LoBasso and DJ Joe Onofrietti. As soon as we started planning the wedding we knew we had to have Mike, since we had seen Dash of Class, and especially Mike at the best weddings we have been to. Mike took all of our requests into consideration and used his expertise to make it an amazing night. Throughout the reception, countless people kept asking who the DJ was. Our crowd is definitely the type that needs some encouragement to dance and Mike and Joe had everyone up and partying! People who NEVER dance were having a great time dancing! The next day we got endless comments about how great the music was! Thank you Mike and Joe for making our wedding absolutely amazing!!!
Sebastian
Sal Basile & Mike Lobasso from Platinum Ent & Dash of Class absolutely blew the roof off the night of our wedding! The dance floor was packed until the last and final song! Could not have asked for a better duo to set the party off and entertain our family and friends! For the past 2 days, all people keep asking me about is who DJed my wedding! Thank you both for killing it and making the night of our lives spectacular!!!
Maureen
Out of this world awesome!! I highly recommend if anyone is looking for a band and DJ for their wedding! Our guests couldn't stop dancing! Anthony Gerardi the owner was super helpful with all set up and netting information. Renee made our photo montage beautiful and was very patient with us getting her pictures. Billy The Hitman remembered every little detail and beautifully blended with the band, and Paris NY, the band was just absolutely sensational! They never took breaks, and sound like listening to a radio, but better, since they are 10 pieces!
Theresa
There aren't many things I could look to say other than – book them. Do not look elsewhere when everything you need/want/could possibly have is right here with Platinum. Anthony & Gary exceeded our expectations. The moment we walked into their office we knew their professionalism & experience was what we had wanted. Aside from being so organized & timely, they were amazing with our daughter. She is 2 1/2 and not always the most cooperative. Gary made sure up until the last possible moment she was okay for her entrance & was willing to make any last minute changes to the lineup! I can honestly say people are still calling us for our recommendation & I wouldn't send my family or friends to anyone else. We are from the Meadowlands area in NJ & the drive was worth every second – Thank You Anthony, Gary & everyone at Platinum – our wedding was definitely by far one of the best we've ever attended!
Lindsey
Platinum Entertainment is the greatest entertainment company! They made my wedding a night people will remember forever. I booked my wedding date around their availability. There was no question in my mind, they were going to be my DJ. Thank you Anthony, Kevin and Joe for making my day so amazing!
Anthony
The absolute best in the business! Mike Gee, Joe Pump and the rest of the crew were outstanding! Our event ran perfectly. Mike Gee knows how to control the entire event. Joe Pump is able to read the crowd and knows exactly what music to play. Platinum was a major reason that our wedding was a huge success! Any event that we see Platinum is providing the entertainment, we know it's going to be a blast!
Jessica
Kevin was the Dj at our wedding. He was wonderful and was able to do everything we asked. Our wedding was Disney themed and he played the Disney instrumental music at dinner like we asked and he was able to write our names in lights in Disney print. I would totally recommend Platinum Entertainment! Kevin kept the party going and people dancing all night.
Nancy
We cannot express how happy we are that we choose platinum entertainment for our wedding. They made our day so special! The music was perfect, the ceremony recap was beautiful and they made everyone get out on the dance floor and party! I cannot wait to use them for a future event! Thanks so much Platinum!
Corinne
It has been over a week now, and people are still raving about our wedding and how awesome Platinum Entertainment was! It was such a pleasure to have Gary Gregory, Anthony Gerardi, and DJ Billy Keegan at our wedding. They made our day perfect! From the moment our wedding started, to the very end, our dance floor was packed, thanks to these guys. They were so kind, fun, and flexible! This marks the third wedding in our family to use Platinum, and I would not change it for the world. They are incredible! They were available and responsive when needed, and helped make our wedding planning super easy and stress free along the way. Guests are still raving about how it's the best wedding and dance party they've ever been to. Our guests also can't stop talking about the "show of love" which was an idea Platinum incorporated into the night that literally had every single guest up and on the dance floor. I am so incredibly happy, satisfied, and blessed to have had these guys with us for our special day! We can't thank you enough!!!!
Danielle
Sal Basile & Bryan Delasandro from Platinum Ent were absolutely awesome! My husband and I did not stop dancing all night. Even our guest said "it was the best wedding they've been to in years." We really enjoyed working with them they were professional, flexiabe and accommodating beyond all expectations.
Stephanie
You guys made our wedding amazing and listened to everything we had said to do. We cannot thank you enough for making our special day extra special. Thank you Mike LoBasso and the entire crew.
Dominique
Kevin and the rest of the Platinum Entertainment team were beyond amazing! We were very particular when choosing a DJ & Emcee for our wedding, and as soon as we spoke to Kevin on the phone we knew he was who we wanted. All we gave him was the genre of music we wanted, and he took it from there. The song choices were great, exactly what we imagined!
Some of our guests even told us that they have never been to a wedding where the dance floor was full right from the beginning, and was NEVER empty. Every time we looked up it was full and everyone was having such a great time! We were so impressed, that we were even telling each other throughout the night how great of a job Kevin and the rest of the team were doing. We would highly recommend Platinum Entertainment, specifically Kevin. He was so awesome and was on board with all of our ideas. He made our entrance exactly how we wanted it and had great ideas to make it even better! If you want great music, entertainment, and a full dance floor, then this is who you want!!
Danielle
Peter and his workers did an AMAZING job. My guest are still talking about how great they were. I will use them for any party we ever have and recommend them to anyone we know
Danielle
Peter and the Dash of Class team were excellent to work with for our wedding! Peter brought such great energy to our reception, and the mix of music kept the dance floor occupied the entire night! Everyone from 20-30 yr old friends to older family members all had a great time with the music. The piano player that we hired for cocktail hour was an awesome touch as well, and the photo booth allowed us to capture even more fun memories. I would definitely recommend Peter and team for anyone looking for a fun wedding!
Tonianne
From the day we met Rob Townsley for our initial meeting, we knew we were in good hands. He took care of us from that moment on to our wedding day. First, he is just such a positive person — his demeanor is kind and enthusiastic and he is so excited to work with you. He listened to everything we wanted and on the day of our wedding, he played such a fantastic mix of old classics and new hits. Everyone came up to us throughout the night complimenting the music selection! Rob checked in with us constantly throughout the night to make sure we were happy which I appreciated tremendously. He even took requests from some of our bridal party and made a sound clip of DJ Khalid that our Best Man wanted to play every time my husband and I kissed. He was accommodating to us and flexible night of. We had a perfect wedding and Rob contributed to that! Thanks again, Rob! I'm recommending you to anyone who gets engaged!
Dana
From the very beginning, we knew Mike was the perfect fit for us. He was quick to respond and answer all of our questions or concerns. Upon our first meeting, he took us through every detail and let us know everything we would need in the months to come. Even when I made changes a few days before to songs, Mike was very flexible. On the wedding day, the dance floor was PACKED the entire night and people still can't stop talking about it. The range of music was perfect and it kept the vibe going all night. A lot of people came up to us at the end of the night and even asked for the name of the company because they immediately knew they wanted Dash of Class at their wedding. We added the saxophone and the drummer as well which added a live band factor that everyone loved. Cannot say enough positive things about this company!
Danielle
Mike and his crew are 2ND TO NONE. They excel at personalizing everything from the meet and greet to the wedding itself. My Fiance and I had an image for our wedding; and because of Mike and his crew, our expectations were EXCEEDED. We were BLESSED to have them as a part of our wedding. With Mike on the mic and his crew engaging with their instruments with the dancers on the dance floor, it was just perfect. Anyone who comes in contact with Mike will feel this immediately. I urge you to go with your gut and book him.