The sun is up, the birds are chirping, and it is time to get the best day of your life started. The morning of your wedding is all about getting pampered. Getting ready is an extra party before the real one begins and will set the mood for the entire day. Here are some tips on How to Have the Best Morning With Your Bridesmaids. Let the fun begin!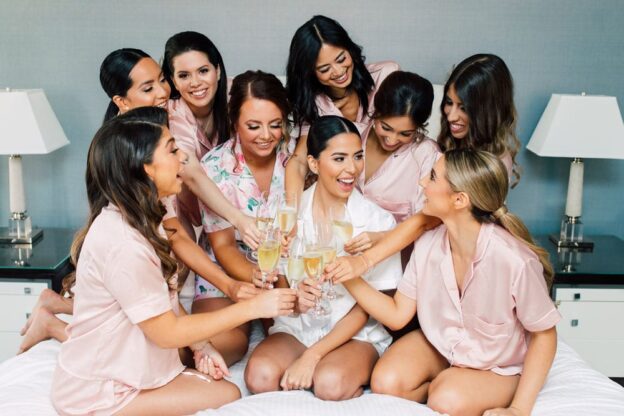 Twinning
You are never too old to match with your friends like you did at a slumber party when you were six. Whether it may be the classic satin robe and slippers, a comfortable sweatshirt, or cute flannels, what is more fun than matching? This does not have to be expensive either. Amazon has an excellent selection to choose from that will look amazing on all your besties.
Mimosa Bar
Time to kick back and pop the champagne. The best way to get the day started is with some drinks and snacks. Let you and your friends relax with a mimosa while eating some fresh fruit and croissants. Who knows the next time you will be able to get your hands on food so you might as well fill up when you can.
Decorations
A quick way to dress up the room is with some balloons, banners, glasses, and any other cute décor you can find. Look for fun personalized decorations on Etsy. It is your day; nothing is ever too much.
Music
Throw on all your favorite songs to sing and dance to, there is no one there to judge. Remember to have someone to make a playlist to really get the day started. Besides, sometimes hair and makeup start at 7:00 AM so you want some pump-up music to stay awake.
Hair and Makeup
Having a glam squad to do your hair and makeup is necessary on the day of your wedding. No need to add extra stress by putting all that on yourself. Take the day off and have a drink while everyone else does the work for you. I am sure your girls will enjoy the royal treatment as well. This is another great way on How to Have the Best Morning With Your Bridesmaids. Let the fun begin!
Photo Op
Have your photographer join you in getting ready to capture your moments together with your girls. Document cheer to your new beginning with the mimosas or a dance party in your slippers and robes. Add a few disposable cameras to the room as well for some old-fashioned fun.
Extras
A few extra items to remember to bring could help save the day and prevent any tears. Make sure to throw a sewing kit, cosmetic tape, and safety pins in your bag. Even some extra shoes, hair accessories, and jewelry just in case. Always be prepared, you never know where your luck may be.