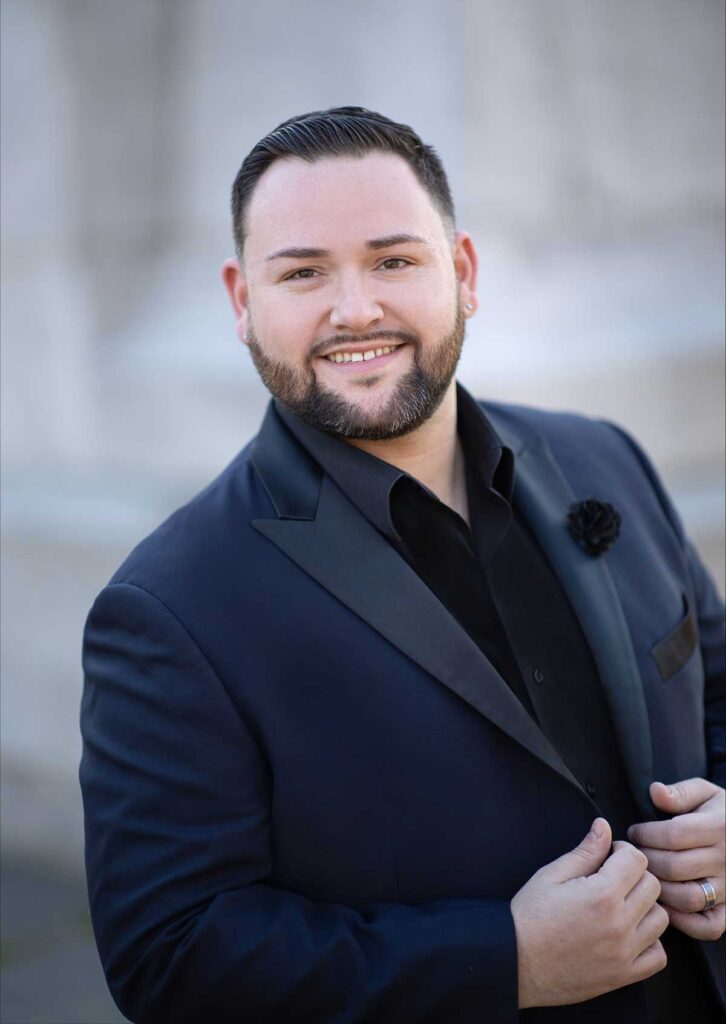 "With a high-energy personality, Justin has become a highly skilled Disc Jockey & Emcee always going the extra step to make sure your party is everything that you have waited for"
Starting at the age of 12 years old, you can say Justin has some years under his belt. Justin now in his early 30's, has performed at thousands of events in his entertainment career. "I couldn't have done this journey without my peers, who have been doing this WAY before I have. They are the ones I thank for shaping me into the entertainer I am today. As a wedding Emcee, I know I only have 4 or 5 hours and only 1 opportunity to get it right. There are no do-overs." Justin has become a highly requested wedding entertainer booking into 2025. Most importantly, he is super comfortable working with any size crowd or wedding type to help give you the wedding you have always wanted. "Whether you are that high-energy couple or the laid-back type, I got you covered and I look forward to working with YOU!"
Rosa & Jerry
From the very second my husband and I sat down with Justin Holland, he promised us fun filled night of dancing. We knew we were making the right decision but come wedding day, we were completely blown away by this duo! Justin Holland and DJ Billy Keegan were on top of every single detail and helped move everything along to give my husband and I the best night of our lives and did things we didn't even know they would handle. The dance floor was packed the entire night! We had a wide variety of music as my husband and I have different tastes in music however, each transition from each set was flawless. So many guests at our wedding said "Where did you find this duo, they are incredible!" It was impossible for you to sit still in your seat. Justin was very responsive and honest throughout our planning process and accommodated any requests that we made. From the second the music started playing before our grand entrance, my husband and I knew we had made the right choice. Our wedding day was absolutely perfect, and it could not have been done without them. I would recommend them to all engaged couples for their weddings, as there is no better team in the business. I can't wait to have Justin and Billy back for our next celebration!
Diana & Nick
From the ceremony to the reception, Justin Holland & Joe Rocco were on top of every single detail necessary to give my wife and I the best night of our lives. The dance floor was packed the entire night, and we had multiple people tell us that the "DJ and Emcee were on point", and that they physically could not go sit down because the music was continuously pulling them back to the dance floor! Justin & Joe were extremely professional and helpful with any questions and requests we had or made. Our wedding day was absolutely perfect, and it could not have been done without them. I would recommend them to all engaged couples for their weddings, as there is no better team in the business.
Alyssa & Billy
We had our wedding on 9/30/23 at Seasons. Justin Holland was our Emcee and Justin Goodman was our DJ. We worked very closely with Justin Holland throughout our entire planning process to make our day unique to us and he was absolutely amazing. Justin Holland made the planning process so enjoyable and one that we will truly miss. Justin Goodman blew us away with all of the amazing music. Talk about mixing music, this guy is out of this world! These two are an absolute power house together! They played every single one of our recommendations, kept everyone dancing and gave us the wedding of our dreams! People were throwing it down on the dance floor. I cannot put into words how amazing our wedding was because of them! Thank you can never be enough!
Chantal & Ross
Let me just start by saying how important the music and setting the vibe for our wedding ceremony, cocktail hour, dinner and the reception was to us. We're from the Philadelphia area and after seeing another friend's wedding using PlatDash, I just knew I had to have these guys all the way from Staten Island, New York for our wedding. We had the pleasure of having our Emcee Justin Holland and our DJ Billy Keegan and it was nothing short than perfection. They made it so effortless and played each and every song we requested! They really understood the vibe we wanted to create for each part of the night. Had me smiling each time I heard a song I wanted played. Justin was awesome and killed the whole flow of event's and kept in touch with me all night to make sure I was enjoying myself and if I needed anything. What's better than that! We cannot recommend these two enough, if you want people dancing all night and keeping the energy high, they got you handled. Our wedding was perfection and we were happy to have had them be such a big part of it!
Alyssa & Frank
I had Dash of Class Platinum Entertainment for my wedding and I am forever grateful! They really know how to have a party. They had all my guests entertained and out on the dance floor for the ENTIRE NIGHT! As for me and my husband, they exceeded all of our wishes for our party. Justin Holland was our Emcee and paid close attention to all of our special details and requests and Joey O rocked the house with all of our favorite hits. 11/10 experience, I highly recommend them for your party!
Bobbi & Kevin 
We recently had Justin & Joey for our wedding and I can't even begin to explain how pleased we are. Justin Holland really knows how to get a crowd going. My husband and I put all of our trust into them and gave them the green light to control all the music played and they did not disappoint! The variety of music played was perfect, the Dancing on Clouds & Sparks made a picture perfect first dance. Our Video Montage and Photo Booth was a hit. I highly, highly, highly recommend choosing them for your wedding!
Sam & Gio
My husband and I had the most magical evening of our lives thanks to Joey & Justin. We began planning our wedding set for August of 2020 with Justin and we knew that he saw our vision. Suddenly, in the Spring of 2020, we had to make the decision to postpone the wedding until 2022. We were informed that Justin would not be available on the postponed date and we were so disappointed that he wouldn't be with us on our special day. However, we knew that in the hands of Dash of Class, we would be taken care of. As time continued due to current event's, we decided once again to postpone until August of 2023. At that time, we were transferred to Joey who would be our magnificent DJ. Joey made every aspect of planning easy, and just like with Justin, we had confidence that Joey would make our dreams a reality. To our pleasant surprise, Justin would in fact now be available to be our Emcee for our wedding! Joey and Justin make an incredible duo and both did everything they could to ensure our day went exactly as we had planned. After planning and waiting in anticipation for 4 years, we had the wedding of our dreams. We could not have had a better team with us that night and we can't wait to have another party because we know exactly who we will be hiring! We highly recommend that you choose to work with this tremendously talented group of individuals to execute your dream party.
Jessica & Christopher
We got married on July 28, 2023 and I had the pleasure of having PlatDash. Justin Holland was our Emcee and Joey O was our DJ. They were amazing! They really kept the crowd going! To my husband and I, one of the most important and memorable parts of a wedding is your music and I have to say, I had the best! They played every song we requested and from those songs they told us they knew exactly our style of music and what they were going to play and they definitely hit it on the head! They had all our guests up and dancing until the very end. I had so many people messaging me after our wedding telling me how the music made the whole night and I couldn't have been happier. They gave great suggestions and helpful tips. They didn't have a bored person in the room. I even got a message the day before my wedding saying how they can't wait to party with us and it honestly made me so happy and 10X's more excited than I already was! We had the time of our lives and we couldn't have done it with Justin, Joey and the whole PlatDash family. Every detail made our wedding, the uplighting, our names on the floor, and their enthusiasm. We just want to thank you from the bottom of our hearts for making our night so amazing. I would recommend them to anyone that ever needs entertainment. I promise, you won't be disappointed. We can't wait to use them in the future.